Discussion Starter
·
#1
·
Well since this is a gasser site, it is kind of weird for me to post about T buckets but just a short question from those of you with the experience.
I came very close to buying this car a while back, because I have always liked these cars too since I was a kid, who doesn't?
I drove 1000 miles round trip to find you needed to be a midget pretty much to drive one. Is that true of all of them? I mean this is one very cool car, and it has a 383 stroker with tunnel ram and two Holleys and wheelie bars out back.
I was to drive it, but could not sit behind the wheel hardly at all. I only weigh 170 and 6'0 tall. Guess you must be shorter with out the steering wheel being tilted all the way forward, and climbing in on the passenger side.
My left leg was pulled up tight against its self pointing straight up, and my right leg spread out so far I could just barely touch the pedals with the side of my shoe. A big disappointment to me, so again is this normal for your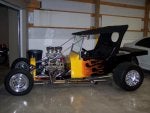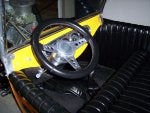 average T Bucket?
I had to pass on it. Its still available if you can fit in it.