·
Adminstrator And Sheet Metal Junkie
Discussion Starter
·
#1
·
I'm certainly not the home remodeler I wish I was but started the kitchen a while ago, and this one wall that sort of stands alone I installed cabinets and a cook top and as long as it worked I really wasn't in no rush to finish it. So about a week or two or maybe even three Kate was cooking and something splashed on the wall and couldn't wash off.
Ok time to get off my butt and get a back splash made up for her kitchen. I tossed a few hints with a marker and drew a set of flames, but the idea didn't really fly.
So when she went in for her three day work stretch Tom and I went to work. We had to remove the bottom cabinets to get the plywood off and replace it with drywall. Seeing as it wasn't painted and we talked about colors and never put one color in stone, while Kate was gone I figured I would pick a color and get it done. Now mind you, the rest of the kitchen still has some mud work and cabinets to go in but on another side of the kitchen. So testing the waters with the color I picked to see her response we would know what direction we were heading. Also not to mention this is an old farm style house built back in the very early 1900's and was a bed and breakfast for a near by train station that no longer exist. So nothing is square or straight and is really a challenge to work with. But we like the old doors and thresholds and creaking sounds so we'll just deal with it, and hey, I got a welder ! !
Here's tearing things apart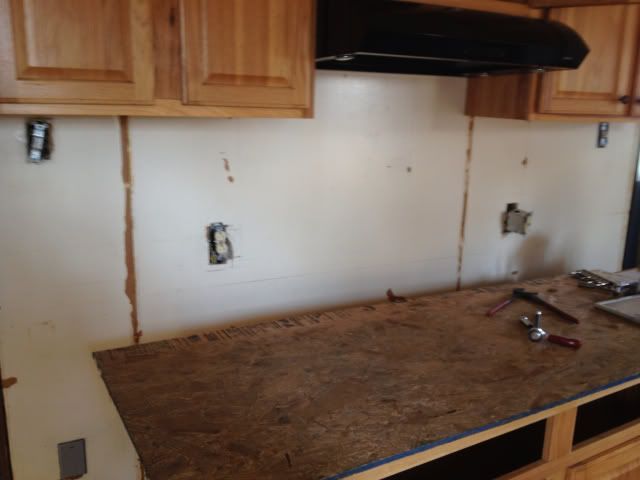 Now not any in between photos but here's we're I'm at so far....