Discussion Starter
·
#1
·
I always thought the old speedboat aluminum tach mounts were Cool! Well, so do a lot of other hotrodders and they are pretty pricey when they come up for sale. So I had the filler neck from my 60 Falcon sitting in front of me one day and it dawned on me it had a similar shape to it. I have an aluminum fuel cell in the Falcon, so I decided to fab up my own cool tach mount in honor of the old speedboat mounts. This is what I came up with, the flake paint job on it, cost less than $19.00 in materials it's new ford blue engine enamel from tractor supply$6.99 with a kids glitter kit from Kmart $4.00 and Tractor supply clear enamel $6.99 I sprayed it with the new ford blue, let it dry, then sprayed a light coat of clear and sprinkled blue glitter on, then another coat of clear, then sprinkled on silver glitter, then another coat of clear, and another sprinkling of blue glitter, the stuff Kmart has is pretty big flake, so I kept adding coats of clear until I got it to pop in the sun like I wanted. It matches my blue flake steering wheel great. The tach was a gift from a close friend, it's a Sun Super Tach II brand new in the box he had for 30yrs. So you can take something you normally would throw away, fuel filler neck and make something cool out of it. I am 46y/o and going back to finish my aeronautics degree, so money is tight, most of what I build is stuff that I recycle, when I spend money it's for the stuff that is absolutley necessary that I can't recycle or fab.
Crazy Flaked Tach Mount: The Alien
After last coat of clear, drying in Fla. sun on the roof of my workbench 49 Crosley:
60 Falcon Fuel Filler Neck: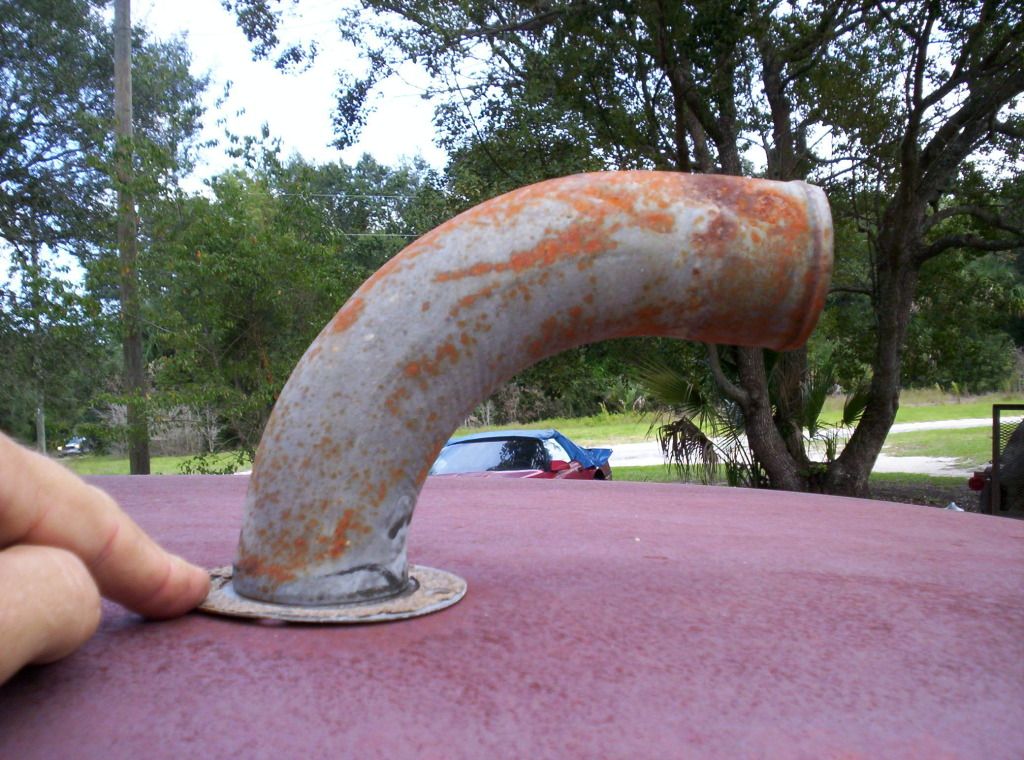 I just cut a hole the diameter of the fuel filler neck into the speaker grille, then slid the tube through from the bottom of the speaker grille and spot welded the filler neck flange to the speaker grille, then I trimmed the leg off the tach column mount and mig'ed it to the other end of the filler neck tube. Dressed the welds up with a grinding wheel/ flapper disc, then smoothed out the welds with filler, then primed and painted. My buddy told me the other day that he saw the flake glittering in the sun a good ways before he passed me going the other direction. I've gotten great compliments on it, I think we all like sparkly things!