·
Adminstrator And Sheet Metal Junkie
Discussion Starter
·
#1
·
Hi Guys
here are a few simple diagrams to help better understand how the dent can be removed with great results.
In this illustration shows the two different approaches of ( on dolly ) and ( off dolly ) .
With the off dolly you are holding pressure against the low area with the dolly and hitting of to the side causing the dolly to drive the low area up to the hammer blows. Now in most cases you only have to lightly tap with the hammer and the dolly being the heavier of the two the dolly will then try to come to the surface.
working around the outer perimeter of the dent you will begin to work the low areas up closer to the top and the high areas will then head down.
The closer you get to the more frequent you want to check your work to see you are still going in the right direction. These are all very basic techniques. and we will get into photos later in the discussion.
Now the (on dolly ) method will net you some of the same results , until you actually bring the hammer and dolly in direct contact with each other with the sheet metal between. Here is were you will have to be careful not to create a stretch. Again we will show this more in dept with photos. But back to the part were hammer meets directly over the dolly and you hear a sharper ring than when there was space between the hammer and dolly due to the fact we had damage or wrinkles in our panel . When you start to hear the different tone and it is evident stop and examine the area. Now is a great time to switch over to the slapper.
I this next illistration we will explain the slapper and dolly technique.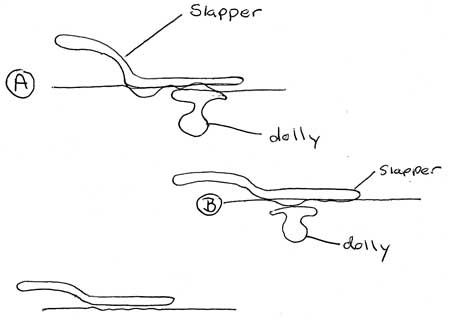 The great advantage of the slapper is it covers a lot of area all at once and spreads each blow out more evenly . Were as with the hammer it hit small areas sometimes causing marks you dont need and making you work harder and longer.
The slapper and dolly combo is a great finishing technique because of its smoothing capabilities. Now what makes it even better you can work dolly on and dolly off with less fear of over stretching the repair area.
Next we will discuss another very helpfull tool the shrinking wheel. This tool will amaze you every time you use it.