Discussion Starter
·
#1
·
Hello guys.
Hey guys. Somehow I just stumbled upon this great gasser site and thought I better register and get posting. Some of you might recognize me from the Tri Five site or the H.A.M.B. I am not a big poster but I do post the odd thing. I usually just do lots of reading and research. Here is some info about me. I am a 42 YO from Langley BC. Canada. Lots of hotrods and culture in my area of the suburbs of Vancouver. Been into cars since I was a young lad and always enjoyed sitting in with my Dad and his buddies enjoying their cars and stories. It left quite an impression on me and I ended messing around with cars for years and became an aircraft mechanic for a career. I fix helicopters for a living, working in the field with Hueys mostly heli skiing and forest fire fighting. I originally bought my 55' 2dr 150 handyman wagon with my dad back in 2004. I had intended on somewhat restoring it and hotrodding it a bit. We did get it up and driving for a few years but it needed a lot of work and time as well as money. I ended up getting married and had a child so that stuff got back burnered. My Dad needed some cash and wanted to sell it. I just couldn't let it go so I bought him out. It has sat in storage for a number of years now. I have decided I would like to do a slow budget build on it over the next several years and have started with my plans and collecting of parts. I have always enjoyed drag racing and had been building a 65' chevy II nova to be a street and strip car. I decided to sell it and pay some bills so I feel I am missing the void for the street/strip car dream. Since my Dad started taking me to the races as a boy I had always loved the tri 5 drag cars and Gassers so I have decided that will be the route I will take. I am excited about the plans. I will start a slow long running buildup when I have a chance so I can share my plans and show some progress. Hope to enjoy some conversations with you all.
Here is a picture of the car a few years back. I removed the really ugly 55' Pontiac stainless trim.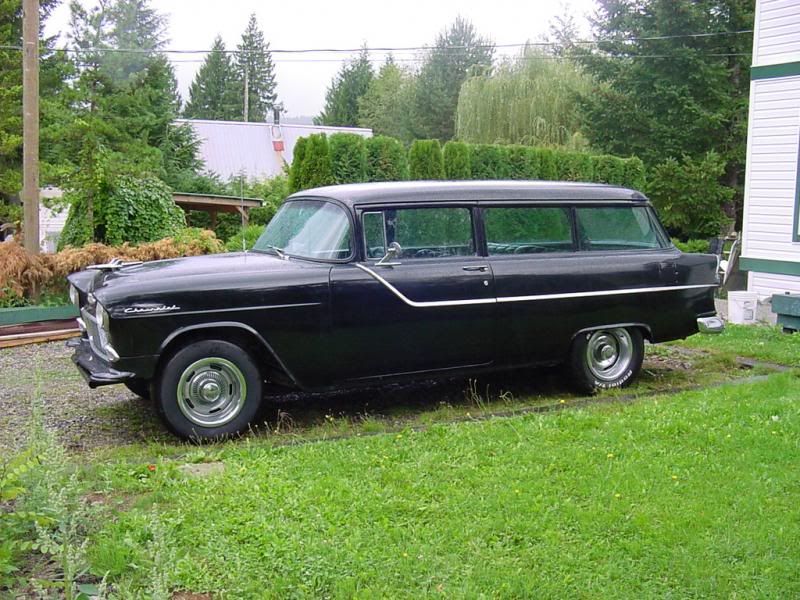 I am hoping to have it look more like this.
Cheers.
Greg
__________________