Hey, really glad I found this site. I've got a lot of questions on my Gasser build, and after a lot of dead-ends in other places/sites, I've already found some helpful answers here.
My name's Carl. Born and raised in SoCal, I now live in Arkansas (returned to the land of my father, so to speak)
I've been a "car guy" all my life....owned over 150 cars, mostly classics and muscle cars. But one of the biggest influences on my love of cars was when I was about 9 or 10, and a neighborhood teenager brought home a 57 Chevy Gasser street rod. It was all classic Gasser, straight axle, big block, tunnel ram, fenderwell headers, yard-long ladder bars, radiused rear fenders with cheater slicks and metalflake all over the place.
Even though that car hooked me, through all my cars, projects and basket cases over the years, I never got around to buying or building the gasser that inspired my obsessive hobby.
Now I'm 50 (going on 25) and I finally ran across an old Gasser project I could afford on ebay. So, a trip with the trailer to Texas and $1,800 later, I'm the proud owner of an old-school 65 Falcon Gasser.
Now, this isn't a retro/repro gasser....from what I could get of it's history, it was actually built in the late 60's....
home
-built,... nothing pro or fancy.....like they used to do in the day. Build it in the garage by the house at night, go race it when you got it together,... Straight axle from what looks like a 50's-era D-100 Dodge pickup (axle and springs painted baby blue ?? Go figure, it was the 60's) a 9-inch rear, a pair of later model racing buckets mounted, and some old, basic high back vinyl buckets in the trunk, a butchered trans tunnel, badly battered firewall, and modern racing tach with shift light on the stripped-of-gauges dash. No engine or trans, and the roll bar and ladder bars were long gone and lost to history. It came with a Trans-Dapt Chevy engine and trans crossmembers, 10X14 Cragars and N-50-14 tires in back, and a pair of 14X7 reversed U.S. five spokes up front, and missing the grill, headlights, and bumper.
It's PERFECT!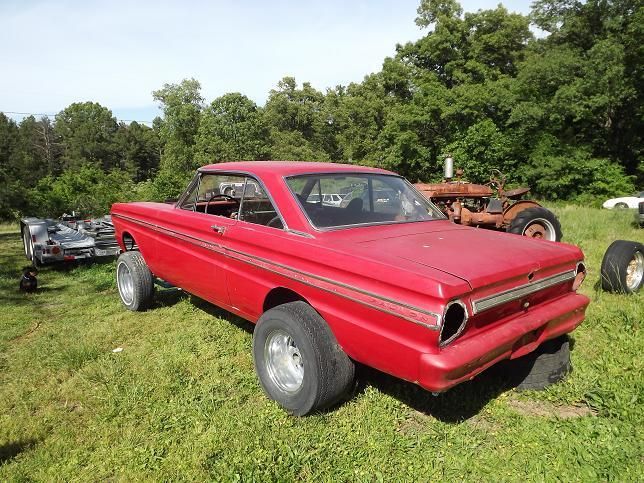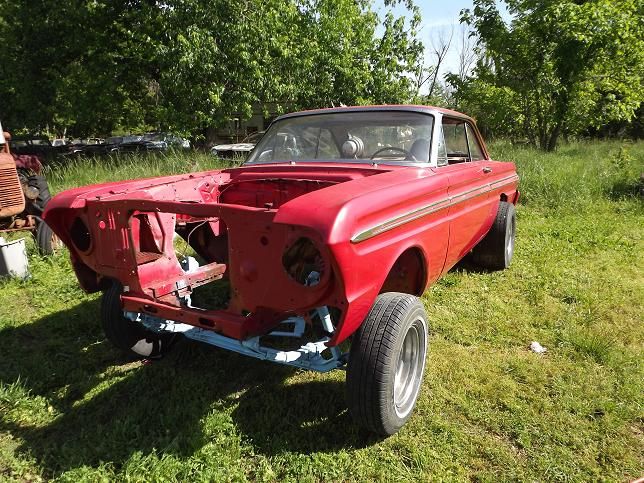 It's going to be a fun project.
Supposedly, the car was raced (don't know whether it was on a track or the street) in the 60's and 70's with either a 390 or 427 FE and 4-speed. The guy I bought it from said the previous owner had removed some of the Gasser stuff, and was going to update and back-half the car and install a Mustang II Rack and pinion set-up up front and make it a modern tech drag car.
That sounds like a lot of money and not much fun, so I'm going to take her back to her Gasser roots.