Well ..... I finally got the Opel somewhat "street-able"... !!!! ???? I said
street-able
"
NOT
street-legal".
Although this car is quite "strip-worthy it is hardly "street-friendly". Not a surprise!!!!
There was a really special car cruise held this past Wednesday evening at a Sonic not far from where we live. After finally getting the "out-of-state" title (West Virginia) transferred to Pennsylvania and legally licensed I just had to get the Opel to this very special evening.
The cruise was organized by a very active group of drag racers that used to race at Pittsburgh International Dragway. PID was closed in 1976 after being the "place to go to drag race" since 1964.
The cruise was a
BIG
success with many former drag cars attending (including National Record holders) along with the opportunity to have a picture of your car next to the "original" Christmas Tree that was used at PID.
Anyway..... I was able to get a "
temporary
" exhaust system made (along with dash controlled cutouts) & wired the license plate to the rear of the car with a coat hanger.
I got to the cruise and back home without any problems or without the COPS chasing me!!!! Like most dragstrip-only cars..... there are NO headlights, brake lights, turn signals, wipers, etc
The car ran pretty good.... but without any lights I was only able to stay at the cruise until "dusk". On the way home a friend of mine drove ahead of me & my wife followed behind on her motorcycle.
Things I noticed that will
NEED
to be addressed in the future..... the brakes are
NOT
GREAT. The brake system is NOT power-assisted so it was a strange feeling to apply the brakes since not driving a car without power brakes since 1976. The amount of pressure needed to apply the brakes was something "new" ...... or should I say "old ???.
Currently the car has front disk brakes (stock) along with rear drum brakes (on an Mustang 8" rearend) with
each
having its
OWN
master cylinder. So I will be looking to upgrade the brake system over the Winter. Will install rear disk brakes and upgrade the front ones as well.
Would also like to change the front spindles or at least get them re-drilled to a more "common" bolt pattern. Right now they are 4 bolt with 4 1/4" bolt pattern. Would like to change from the CenterLine wheels to a 10 spoke ET gasser wheel.
As noted in another VERY GOOD thread about "cooling" started by member "
nitrouspro
" (
http://www.gasserhotrods.com/forum/showthread.php?106-Cooling-It-Down!&highlight=cooling
) ...... there are quite a few of us that have a concern/worry about our gassers "running hot" .....
or at least hotter than we would like them to.
Under normal driving speed the engine ran at a very reasonable 180-200 degrees which I am comfortable with. But after prolonged idling or slow (lugging) driving up a long hill @ 25 mph the water temp rose to 220+ degrees. As 406Rich mentioned in the Cooling-it-Down thread.....
"maybe I`m old school but at 200 I get nervous".
...... Me Too!!!!
With the engine being set
way
back (almost 2 feet) it is basically entombed in a box of sheet metal protruding well into the interior. For now I cannot simply remove the "inner fenderwells" because the upper front shock mounts are incorporated in them. Today I'll take some closeup pictures and post them here for you to see what I mean.
I am going to cut some "vent holes" under the hood scoop in addition to holes in the inner fender wells.
I would prefer to leave the engine cover "as-is" for that "old-school" look. But it looks like I will have to "insulate" the engine cover & firewall and then cover it in rolled & pleated material. Afterall..... Gassers of the "early days" were required to have a
FULL interior
.
Check-out the most famous Gasser of ALL-TIME...... "Stone-Woods & Cook" 40 Willys - Swindler I.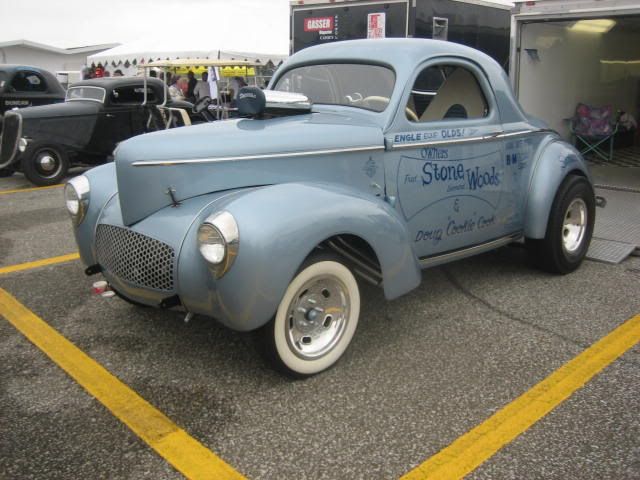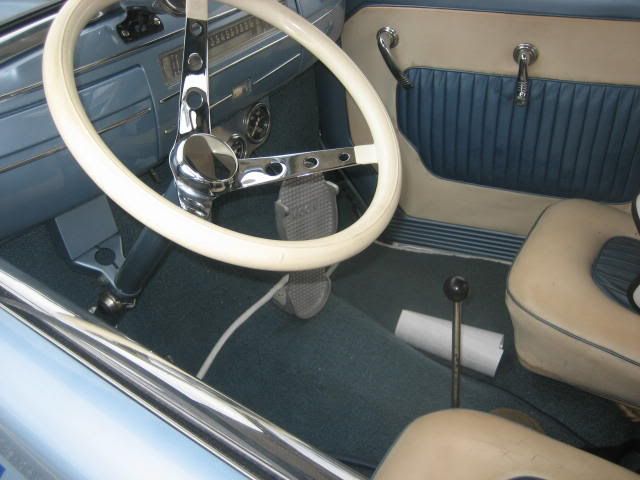 The sheetmetal "box" which covers the engine on our Opel gets
really
HOT
. It is VERY close to the exhaust headers on both sides. After driving the car a few miles you cannot even touch the bottom of the cover. Like a DUMMY I drove it to the cruise wearing jean shorts with
sandals..... OUCH!!!!
I am also going to mount a 12v fan on the engine cover to help "cool-off" the driver.
Last night's cruise was rained out ..... next cruise is tomorrow night. So if there is no rain we'll be going. That gives me more time to make some modifications to make our 'little gasser" somewhat MORE "street-friendly".